WHAT IS STEM CELL THERAPY?
Stem cell therapy is the process of stimulating living and functional hair follicles in order to repair damaged follicles.
WHAT ARE THEY?
Adult (not from embryonic source) Mesenchymal Stem Cells are undifferentiated cells that have the ability to replace dying cells and regenerate damaged tissue. These special cells are capable of regenerating healthy cells and enabling a person's natural healing processes to be accelerated. Adult stem cells have been used for a variety of medical treatments to repair and regenerate damaged tissues.
There are different kinds of stem cells. Most people are familiar with "embryonic stem cell." These are cells from the embryonic stage that have yet to differentiate – as such, they can change into any body part at all. These are then called "pluri-potential" cells. Because they are taken from unborn or unwanted embryos, there has been considerable controversy surrounding their use. While embryonic stem cells have been used outside the United States, they are not approved for use within the United States. Furthermore, embryonic stem cells have been associated with occasional tumor (teratoma) formations. There is work being conducted by several companies to isolate particular lines of embryonic stem cells for future use. West LA Medical & Skincare Stem Cell Center and the Cell Surgical Network do not use embryonic stem cells.
Our focus is on the "adult stem cell." This is a stem cell that already resides in one's body within different tissues. In recent times, much work has been done isolating bone-marrow derived stem cells. These are also known as "mesenchymal stem cells" because they come from the mesodermal section of your body. They can differentiate into bone and cartilage, and other mesodermal elements, such as fat, connective tissue, blood vessels, muscle and nerve tissue. Bone marrow stem cells can be extracted in low numbers, but the process is painful. Fortunately our fat is also loaded with mesenchymal stem cells. In fact, our fat has thousands of times more stem cells compared to the bone marrow. Through advances in research and technology, we are able to separate the mesenchymal stem cells from fat.
WHERE DO WE GET YOUR STEM CELLS?
Adult stem cells are found throughout your body. Stem cells are easily accessible in your fat. These cells are also called "adipose derived stem cells" or "stromal vascular fraction."
During an in-office procedure a small quantity of fact is removed from your lower back (flank) or abdomen. While you wait, the fat is them processed to remove impurities and to expose your own stem cells. The entire process is completed in a sterile and closed environment.
Other sources of stem cells include "amniotic" products which are commercially available, but are not from your own body. For safety, these cells are then radiated with gamma beams, making them non-living cells. Another source of stem cells are bone marrow based cells. We do not use these amniotic products or bone marrow based cells in our office.
HOW DO THEY GROW HAIR FOLLICLES?
Mesenchymal stem cells have the potential to differentiate into a variety of cell types. The root of each hair follicle is made up of connective tissue and blood vessels. The mesenchymal stem cells are able to repair the hair follicle papilla (see image).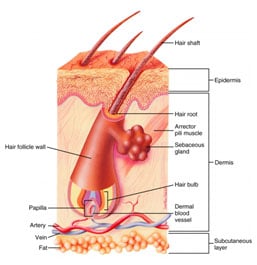 WHAT TO EXPECT OF YOUR TREATMENT?
All consultations and treatments are provided by Dr. Melamed.
Dr. Melamed will harvest a small amount of fat (25-50cc) from your abdomen or flank area.
Dr. Melamed will process your fat to separate the mesenchymal stem cells from the fat.
Dr. Melamed will draw a small amount of blood to prepare your PRP.
Your mesenchymal stem cells and your PRP are combined together for maximal effectiveness.
Dr. Melamed will then use your stem cells and PRP for the appropriate scalp treatment.
We use adipose (fat) derived stem cells for clinical research in the treatment of hair loss. First, the doctor will apply local anesthesia to numb the area, and then harvest the required amount of fat. This process takes about 45 minutes, and requires about 7 days for the swelling to settle down in the area the fat was resume. Patients are able to resume activity the same day.
After the fat is harvest the real magic will begin. The doctor will use a specialize technic to extract and concentrate your own stem cells from the fat. This technical work takes approximately 60-90 minutes. During this time you can relax in our lounge or take a break for lunch.
Your prepared stem cells are combined with your PRP. The combination of your stem cells and PRP are used to treat your scalp. Areas with thinning hair or hair loss are injected directly under the skin where the hair grows. This process takes about 30 minutes, and does not require any recovery time. You are able to return to work or attend activities without any visible signs.
WHAT DO WE KNOW ABOUT STEM CELLS?
The success and favorable outcomes are directly related to the quantity of stem cells and quality or PRP we are able to delivery into the scalp. The stem cells have the potential to repair human tissue by influencing healing and forming new cells of mesenchymal origin. Stem cells also have the ability to form new blood vessels and other tissues, making them suitable for mitigating a large number of traumatic and degenerative conditions.
We have anecdotal and experimental evidence that stem cell therapy is effective in healing and regeneration. Stem cells seek out damaged tissues in order to repair the body naturally. The literature is full of successful testimonials but we are still awaiting definitive studies demonstrating the efficacy of stem cell therapy. Such data may take many more years to accumulate. In the meantime, we are helping many patients suffering from hair loss. We have initiated pilot studies as investigational tests of treatment effectiveness with very high numbers of adipose derived stem cells obtained from fat.
Dr. Melamed is a member of The Cell Surgical Network's cell harvesting and isolation group. Our group and office uses the most advanced technological breakthroughs that allow patients to safely receive their own stem cells in extremely large quantities. Our treatments and research are patient funded and we have endeavored successfully to make it affordable. All of our sterile procedures are minimally-invasive and done under local anesthesia. Patients who are looking for non-surgical alternatives to their degenerative disorders can participate in our trials by filling out our treatment application to determine if they are candidates. The West LA Medical & Skincare Stem Cell Center is proud to offer the most advanced treatments for Regenerative Medicine.
HOW MANY TREATMENTS ARE REQUIRED FOR SUCCESS?
Most patients with common types of hair loss will require only one treatment, with a follow-up after three months. Certain types of progressive types of hair loss may require additional treatments with finasteride and/or laser biostimulation. The number and necessity of any additional treatments would be decided on a case by case basis. Financial consideration is given in these instances.
ARE THEY FDA APPROVED?
The use of stem cells is not FDA approved for the treatment of any specific disease in the United States. Therefore all existing treatments are considered investigational. Many reputable international centers have been using stem cell therapy to treat various chronic degenerative conditions as diverse as severe neurologic diseases, renal failure, erectile dysfunction, degenerative orthopedic problems, and even cardiac and pulmonary diseases to name a few.
WHAT CLAIMS ARE CURRENTLY MADE BY OUR OFFICE ABOUT STEM CELL THERAPY?
None. Our aim is to make cell based medicine available to patients who are interested and to provide ongoing research data under approved Institutional Review Board (IRB) validated studies. We will follow our stem cell treatment patients over their lifetimes. This will enable us to accumulate significant data about the various degenerative diseases we treat. Instead of providing simply anecdotal or testimonial information, our goal is to categorize the various conditions and follow the patient's progress through various objective (e.g. x-ray evidence or video displays) and subjective (e.g. patient and/or doctor surveys) criteria. We are aware of a lot of stories about marked improvement of a variety of conditions, but we make no claims about the intended treatment. We have submitted preliminary safety data to the FDA as part of an approval application which is under consideration. Still, these are your own cells and not "medicines" for sale. They are only being used in your own body. Most likely, no claim needs to be made; rather a statistical analysis of our findings would suffice to suggest whether treatments are truly and significantly effective.
IS EVERYONE A CANDIDATE?
No. Only certain medical problems are currently being treated. All patients need to be medically stable enough to have the treatment in our facility. Some patients may be declined due to the severity of their hair loss. Other patients may not have conditions appropriate to treat or may not be covered by our protocols. Contact us today to learn if you are a candidate.