1-Day FUE Hair Restoration
ARTAS iX Robotic FUE Hair Restoration
West LA Hair Restoration offers the most advanced treatments for hair restoration. By combining Dr. Melamed's years of experience and expertise with the technological advancements of the ARTAS iX Robot, he delivers FUE hair transplantation with guaranteed natural-looking results; this is the 1-Day Hair Restoration procedure.
Get Your Confidence Back.

Permanently.
Get Started
Real Hair Restoration Results
"
Dr. Melamed is really experienced and knowledgeable. He has really turned my life around with the amazing hair transplant that I received with no scars no pain and no downtime. I did the procedure on Friday and back to work on Monday. I definitely see a huge difference in my hair volume and thickness. Best decision I've made and thank you Dr. Melamed for a wonderful job done and appreciate tremendously your expertise and wonderful procedure done.
"
"
I had the Artas iX hair transplant procedure done with Dr. Melamed and it was the best experience I had. The procedure was pain-free and had minimal downtime. Very friendly staff and great zen environment. The best part with his technique is there are no linear scars and pain-free. Thank you Dr. Melamed for a wonderful experience!
"
"
I had a hair transplant done with the Artas iX procedure by Dr. Melamed. This was a great experience. It was virtually a pain-free procedure. Dr. Melamed explained the procedure thoroughly, he answered all of my questions. From the moment that I walked into Dr. Melamed's office, Lisa made me feel very comfortable. The nursing staff Noemi and Jerilyn were also very kind and professional. Thank you, Dr. Melamed.
"
See More Results
After Hair Restoration Procedure
Dr. Melamed will help you look and feel your best. You can return to work within a couple days. Your first follow-up appointment with Dr. M is 2 weeks after the procedure, and you will see results within the first 2-3 months. Optimal results are visible 9-12 months after the procedure.
Why Choose West LA Hair Restoration?
West LA Hair Restoration prides itself on being family-operated and a part of the Los Angeles community for over 17 years. This connection to our community helps us to deliver the highest quality, individualized treatment while also providing the most comprehensive hair restoration services. At West LA Hair Restoration, Dr. Melamed's commitment to his patients is the foundation of the care we provide. From the consultation, through the procedure, and into post-treatment care, Dr. M is actively involved in your treatment program that has guaranteed results.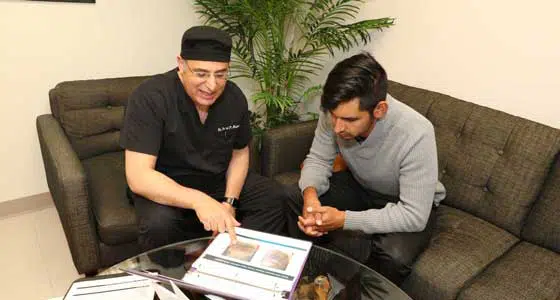 Ready to Get Started?
West LA Hair Restoration offers the most advanced hair restoration options, including the ARTAS iX robotic assistant FUE transplantation, to deliver natural and lasting results. Why go through life feeling insecure or unhappy? Turn back time to look and feel your best again with the help of Dr. Melamed.
Don't let your budget hold you back from looking and feeling your best. West LA Hair Restoration offers financing options to help you achieve the hair you desire.
Financing Available